Read stories
& be part of GemLand at:


More
INTERACTIVE
MAPS
for
GeoScenery:



Website
Sections:
INTERACTIVE MAP:

Sedona
and the Verde Valley

"The plants, rocks, fire, water, all are alive.
They watch us and see our needs.
They see when we have nothing to protect us,
and it is then that they reveal themselves and speak to us."
--- old Apache storyteller




If the

Grand Canyon

is the "age-old" destination in northern Arizona, then Sedona must be the "age-new" (as in "new age") destination!

And if you are looking for beautiful resorts, great cuisine, and fine art galleries, coupled with scenic hiking trails, backcountry tours, and a "Hollywood movie"-type setting, then Sedona is your place.

Some of the most stunning red-rock country in the world surrounds Sedona, and the other communities of the Verde Valley.

Nearby, cool

Flagstaff

presents a surprisingly green (and sometimes even snowy!) break from the blazing deserts of southern Arizona.

And quaint little Jerome also hosts a variety of art galleries, antique shops, and wide views of the Verde ("green", in Spanish) River.

Explore the map below! Click on colored names for some great views, geological information, and recommendations for the most scenic settings and landscapes. Each name connects you to a scene or series of scenes. Discover why the Sedona area is such a special place.

If you like, you can email this map to your friends!

If you like rocks, gems,
geology, & stars in the sky,

to our FREE EMAIL NEWSLETTER.

There are currently 6 different views, woven together into a virtual tour of the Sedona, Flagstaff, Jerome, and Verde Valley areas. More new pictures are being added all the time.

Extremely picturesque, symbolic of the Southwest, and reputed to harbor mystical powers, the cliffs towering above Sedona, Oak Creek, Cottonwood, and Clarkdale mark the southern edge of the vast Colorado Plateau.


The location
of the map below
within Arizona.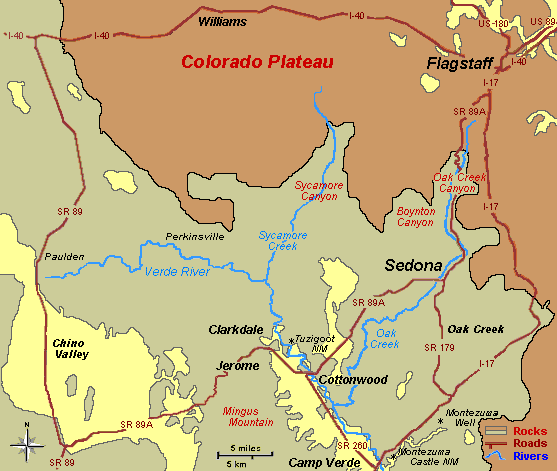 The area shown above measures about 50 miles (80 km)
West to East, by 40 miles (64km) North to South, and encompasses approximately 2000 square miles (5200 km²).

Also explore the Valley of the Sun, farther to the south.

This map and all contents (C) 2018
by Richard Allen. All rights reserved.